As another blockbuster new product launched after CIa210, Su310 series laboratory
stainless steel fermenter
officially launched this month, Holves once again innovation, let the product witness the power of the brand!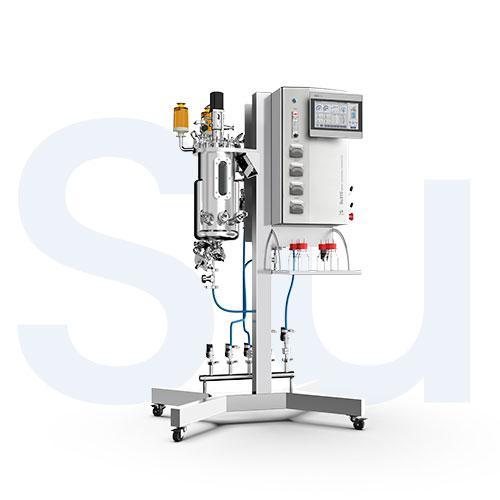 The new stainless steel fermenter series, which was officially unveiled this month, is a special series developed by HOLVES for laboratory applications based on the original HF-S standard series of fermenters.
New design concept, adhering to the core of "SMART SMART", into the theme of HOLVES brand high quality, strong performance, thus creating a small footprint, flexible operation, while meeting the majority of laboratory fermentation application scenarios of equipment. Multi-line advantage makes Su310 whole series stand out among similar products.
In order to solve the problem of the cumbersome
stainless steel fermenter
, Holves adopted the finishing process for the vessel cover and connecting parts this time, which reduced the weight of the vessel cover by 50% compared with the past.
Su310 innovation breakthrough
1. The designer put forward the plan of the external suspension backboard in the concept stage. After many bold attempts, the problem of the complicated general power pipeline was perfectly solved. The pipelines are centrally placed on the backplane for installation to achieve a fully concealed design.
2. The overall modularity is suitable for different vessel requirements, no need to replace the controller, and it is more convenient for the disassembly, cleaning and maintenance of the instrument. At the same time, it supports 2~8 multi-connection expansion, flexibly adapting to different working conditions.
3. Abandon the traditional filter element and use an integrated air filtration to completely remove the biggest obstacle for automatic sterilization. All systems are equipped with automatic sterilization as standard.
Su310 is stable and reliable
The original processor and accessories of Siemens SIMATIC Smart series are selected from well-known brands at home and abroad, and the original HF-Control V2.2 Control system is embedded in the factory, realizing local full operation, external connection and expansion, truly realizing comprehensive upgrade in design, Control and performance, creating an innovative laboratory stainless steel fermenter.
---
Want know more news information?