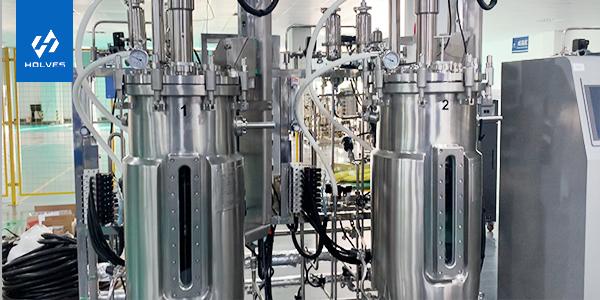 Stainless steel fermenters are easy to operate and simple to maintain.As the tank is made of high quality stainless steel, it is durable and will not produce any chemical corrosion, and also has the characteristics of high temperature and high pressure resistance. In addition, the overall seamless welded structure design ensures the safety and stability of the product.

Stainless Steel Fermenter Heating Methods
The heating method of stainless steel fermenter is divided into electric heating, steam heating and thermal oil heating.
(1) Steam heating&thermal oil heating: their advantages are electricity, long service life, can save energy; the disadvantage is that the temperature control precision of the equipment is poor, will affect the quality of the product and yield.
(2) Electric heating: low cost, can meet the temperature control requirements of high viscosity products, but the power is relatively large.

Stainless steel fermenter stirring method
Stainless steel fermenter stirring method is divided into mechanical stirring, electromagnetic stirring, circulation stirring, etc.
(1) Mechanical mixing: with convenient operation and easy control, it can realize rapid material mixing and uniform mixing, especially suitable for mixing and dissolving solid materials, but it will cause mutual impact between materials and liquid.
(2) Electromagnetic stirring: it has good mass transfer effect, because there is no mechanical friction in the electromagnetic stirrer, so there will be no impact and friction phenomenon between the material and the liquid, which not only improves the mixing effect of the material, but also reduces the shearing effect between the material and the liquid.
(3) Circulation stirring: the circulation stirring in the stainless steel fermenter is mainly through the setup of circulation pipeline and circulation pump, and there are automatic sewage valve, check valve and safety valve in the circulation pipeline. When the fermenter stops running without material addition, the automatic stop drain valve, check valve and safety valve will be opened. When the liquid in the tank needs to continue to circulate, the drain valve, check valve and safety valve can be closed by manually controlling the valve.