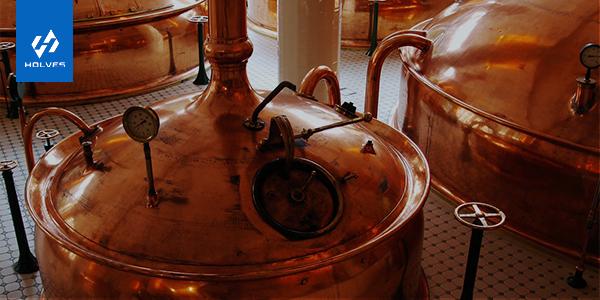 Effect of fermenter
The fermenter is an airtight equipment used for beer production and one of the important equipment for beer brewing, mainly composed of vessel, internal pressure system and piping system, etc.
During beer fermentation, the yeast in the fermenter produces carbon dioxide and other metabolites that affect the quality and flavor of the beer, as well as the yield of the beer.Therefore, it is important to ensure stable pressure and constant temperature in the fermenter during the production process so that the yeast can grow and metabolize properly.
Types of fermenters for beer fermentation
As one of the core equipment in the beer fermentation process, the fermenter has a simple structure and is easy to operate. However, beer fermentation requires high stability in the process, and the traditional fermentation vessels are made of stainless steel or aluminum alloy. At present, the fermentation vessels used in the domestic and foreign beer industry are mainly stainless steel fermentation vessels and aluminum fermentation vessels, of which stainless steel fermentation vessels are divided into three types: single-layer stainless steel, double stainless steel and three-layer stainless steel.
Single-layer stainless steel fermenter can achieve complete isolation between the vessel and the liquid, so that the entire fermentation process is in a closed state, preventing microorganisms from contact with the outside environment. However, because of its high cost and does not have automatic control system, so it is not much used in the production.
The double-layer fermenter is a double-layer structure, the upper layer is the reaction space, mainly used for yeast proliferation culture, beer fermentation, carbon dioxide escape. The lower layer is the storage space, mainly used for the storage of beer raw materials.
The vessel is usually equipped with an exhaust port and a liquid level control port to observe the change of liquid level in the vessel and control the fermentation process.